The increased role of China and Xi Jinping
China's impact and influence in the countries of Central Asia increased tremendously in recent years. "Its influence in Central Asia may now be reaching levels not seen since the period of Silk Road during the Tang dynasty, which ruled China from 618 to 907," says William C. Kirby, a Harvard professor of Chinese history. A key role in Chinese impact and influence plays the secretary general of the China Communist Party, the President of China – Mr. Xi Jingping. He has many opponents as well, among them activists on the run.
Xi Jinping's increased power—something reinforced by the rest of the Party Congress, which just solidified Xi as the "core" of the party in the (often modified and mostly symbolic) Chinese Constitution and where he has been front and center as he takes an unprecedented third term. Xi Jinping used harsh language in his opening work report to describe the situation within the party when he took over, speaking of a "slide toward weak, hollow, and watered-down party leadership in practice," though without mentioning Hu or others by name.
20th National Congress of the China Communist Party held on 16-20 October 2022 in Beijing. The congress concluded by approving the members of the standing committee and politburo (2296 members-delegate) and, for the third term, approved the selection of the Secretary-General of the Chinese Communist Party, Xi Jinping, for the next five years.
Xi Jinping, in his long 104 minutes speech denouncing corruption (corruption on a scale unprecedented in our history) (referencing the chaotic situation in Taiwan and the peaceful reunification into mainland China will bring order and governance), showed a fighting spirit and advocated for common prosperity in mainland China, Hongkong and Taiwan. Xi Jinping Thoughts (Xi Jinping Thought on Socialism with Chinese Characteristics for a New Era) incorporated as a special amendment to the CCP Constitution; even though it was mentioned in the previous 19th CPC Congress, the focus on Jinping Thoughts moves into Chinese ideology derived from a speech titled "Some Questions on Maintaining and Developing Socialism with Chinese Characteristics."
Humiliation of predecessors
With reference to Belt and Road initiative, the increased role of China in global politics increased – the presence of China in infrastructure, loans to developing projects, extractive industries, etc. in addition, the role of Xi Jinping as a core and guiding role in the communist party and opposing narrative to Taiwanese independence leads to the more authoritarian system and humiliating removal of the previous secretary general Xu Jintao. Foreign Policy magazine commented on this incident as "deliberately and publicly humiliate his predecessor".
It is a possibility that Hu Jintao's public removal from the hall was planned that Xi Jinping deliberately and publicly humiliated his predecessor—a way of wielding the tools of party discipline, followed by judicial punishment, against him. It was suggested that during Hu's Jintao rule, corruption rose, and public coverage of corruption also rose, as free speech online and, to some extent, civil society groups and NGOs. Most party members were more occupied with making money than with enforcing the party line of authoritarianism and power. Humiliating Hu in this fashion would also send a clear signal to the "retired elders," the former high-level leaders who long remained a force within the party, that Xi's power was unbound.
Western frontier – Central Asian countries
In Xi's meetings with several Central Asian leaders, they were quoted as using phrases and political slogans coined by the Chinese Communist Party, praising him for "building a moderately prosperous society" and advancing toward China's "great rejuvenation." His counterparts described Xi as "the core" of his country, for instance, and the single person responsible for China's successes — a narrative Beijing has intensified in recent months. "The words from the president of Uzbekistan are exactly like the local governors in China use when they have the chance to praise the current leader; they use that script," said Peidong Sun, a Cornell University, Associate professor of contemporary Chinese social and cultural history.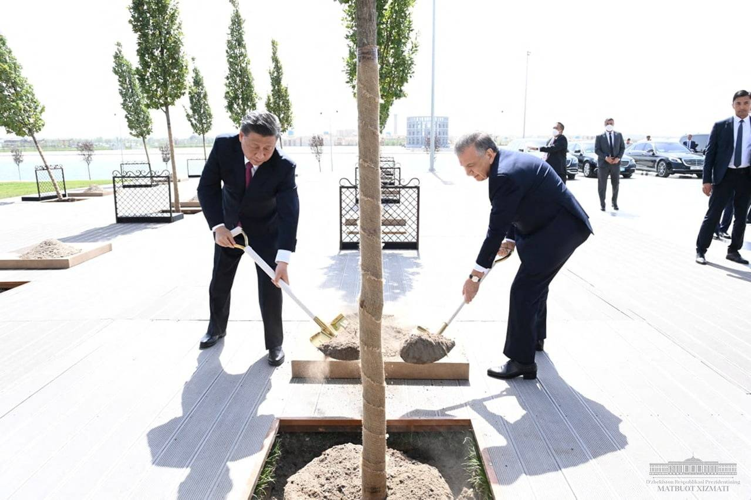 Uzbekistan's leader, in presenting Xi with an award, had expressed respect for him "as a statesman," according to the president's website, and not "the greatest statesman." Many Central Asian nations welcome Chinese investment but are wary of becoming dependent on Beijing. In addition, in the region, the countries like Kazakhstan, Uzbekistan and Kyrgyzstan, people share linguistic, cultural, and in some cases, family ties (especially in Kazakhstan) with groups in Xinjiang, a region in China's far west. Many have been concerned about the vast crackdown there that has ensnared Central Asian people. Putin's subsequent invasion of Ukraine, followed by a series of humiliating defeats of the Russian army, may give Beijing room to gain an edge.
Starting in 2013, the so-called Belt and Road Initiative, a program of railways, port, and highways along the land and maritime Silk Roads that linked China to Europe and the Middle East for centuries. China's "March West" strategy (coined in 2013 by political scientist Wang Jisi, paving the way for Beijing's roll-out of the Belt and Road Initiative in the subsequent years), and, indeed, a crux of contestation between the two ends of the Sino-Russian dynamic. But more than that, the region has also become a powerful embodiment of the agency of medium states concerning great power politics – and the limits of that agency. As Iskandar Akylbayev and Brian Wong have argued , the medium-state diplomacy exhibited by Kazakhstan should not be underestimated. Thus, China's ability to prosecute deepened and more dynamic penetration of Central Asian markets and natural resources constitutes a vital pillar of its geo-economic strategy in 2022.
Kazakhstan serves as a critical bridge between China and Europe and the Caspian Sea, as well as a growing prime supplier of natural gas to China, alongside Turkmenistan (though the latter has struggled with meeting its pledged volumes). Uzbekistan and Kyrgyzstan are engaged in an ongoing railway project with China – a prime corridor of infrastructural mega-projects that could, in fact, yield significant returns. Tajikistan remains the least heavily involved partner to China in the region, but with Wang's recent visit in August, this may well be changing. The protests in Kazakhstan in Shymkent are based on the environmental impacts of Chinese investors/companies. Kazakh president Mr. Tokayev is an essential ally of Xi Jinping, being formerly the Kazakh Ambassador to China. He wrote a thesis on Kazakh-China relations and speaks fluent Chinese language; There are speculations on his Chinese connections and links. When he greeted Xi Jinping at the airport, he easily held a conversation in Chinese with China president.
The importance of this engagement is the broadening of China's historically economy-led (Chinese public and private investment and commerce) presence in the region to include hard power – strategy-security-military dimensions too. Friendly and neighboring states that are more aligned with their foreign policy prerogatives and long-term economic calculus. Underestimates the extent to which China is prepared to recouple and deepen trade ties – selectively – in the aftermath of the pandemic.
The actual phenomenon that could be observed is a selective decoupling-recoupling strategy. While there is indeed evidence that China is seeking self-sufficiency across areas ranging from semiconductors and chips to energy, this must be viewed in conjunction with the evidence that it is engaging in wider and quasi-asymmetrical relation-deepening about "friendlier" states.
Umedjon Majidi – Author of the blog series, Expert/Research Consultant, Civic IDEA